About the MBCRA Initiative
The Minority Business CRA Initiative (MBCRA) was recently formed in conjunction with the Prince George's County Office of Central Services (OCS), Supplier Development & Diversity Division (SDDD), the People for Change Coalition (PFC Coalition), and the PFC Black Chamber of Commerce.
The purpose of the MBCRA Initiative is to better engage our small and minority businesses in funding opportunities as it relates to the Community Reinvestment Act (CRA).
The CRA is a federal law enacted in 1977 with the intent of encouraging depository institutions to help meet the credit needs of low- and moderate-income neighborhoods. In addition, the CRA requires federal regulators to assess how well each bank or thrift fulfills its obligations to these communities.
To reach our small business community, we have developed a survey to capture pertinent information to assist in our approach to the banks, and help us identify the funding gaps that exists in Prince George's County. Please complete the survey now.
In addition, we will be hosting a listening session in September to discuss the results of the survey.
Now is a great opportunity to leverge the Community Reinvestment Act (CRA).
See links below on and how other counties, cities, and states are using CRA to fund development projects, build wealth in communities, and provide technical assistance to small businesses.
https://www.truist.com/content/dam/truist/us/en/documents/bbt-suntrust-community-benefits-plan.pdf
https://media.truist.com/2020-09-23-Truist-Donates-40-Million-to-Launch-Innovative-Nonprofit-Fund-Supporting-Ethnically-Racially-Diverse-and-Women-Owned-Small-Businesses
https://about.bankofamerica.com/en/making-an-impact/black-business-investment-fund-bbif-preserving-black-owned-businesses
https://operationhope.org/press-releases/truists-20-million-operation-hope-investment-expands-financial-inclusion-to-more-communities/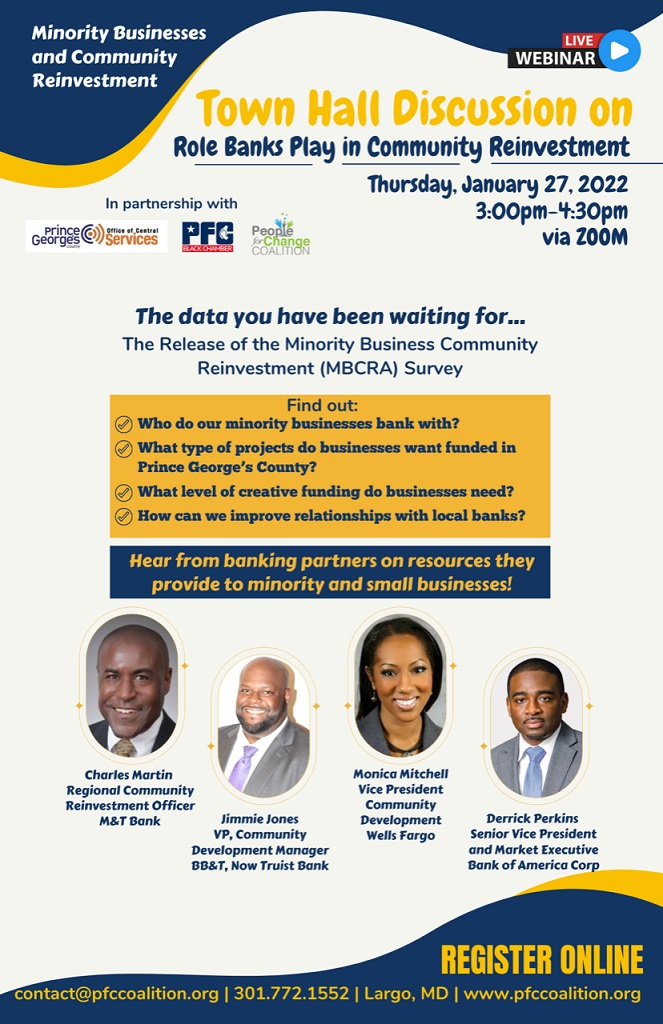 If you have any questions, please send us an Email or contact us at:
People for Change Coalition
9500 Medical Center Drive, Suite 460
Largo, MD 20774
301-772-1552
Email: contact@pfccoalition.org